---
Like Youtube videos are hosted on Google servers, Facebook videos are hosted on Facebook servers. The link or URL of the Facebook video which you see on Facebook is not the actual source of the video file that is hosted on facebook server(it is embedded). So getting the real facebook video source is not easy.
Getfbstuff.com is an online facebook video downloader which downloads facebook video to your computer. Unlike other facebook video downloader, getfbstuff.com is easy to use and downloads your facebook video in simple steps. Since it is a web application, you can download facebook video in Mac OS X, Windows 7, Ubuntu or in any other Operating System.
You can also use our second server of Facebook video downloader to download facebook videos. It is fast and exactly similar to use.
Below are the steps (with picture) which you can follow to download facebook video or watch a 4-minute video to download any facebook video.
Step 1: Get Facebook video URL
---
First, you need to make sure that the video which you are trying to download is hosted on facebook server and is public video, which you can do by looking at the video URL.
So if the video is hosted on Facebook, right click and open facebook video in a new tab, and copy the video URL/link from URL box.
Before you move on further just do a small check i.e. whether the facebook video you are trying to download is public or not.
(i) Right click the video and "Copy link address"
(ii) Log out from facebook and paste the link in link/URL box, if you are able to see the video then proceed further otherwise if you see some error like "This content is currently unavailable", try "Private Facebook Video Downloader"

Step 2: Open Facebook video downloader online
---
Go to our online facebook video downloader to download or save facebook video to your computer. Paste the copied video URL/link in the video URL box and click on the "Download" button to download a facebook video.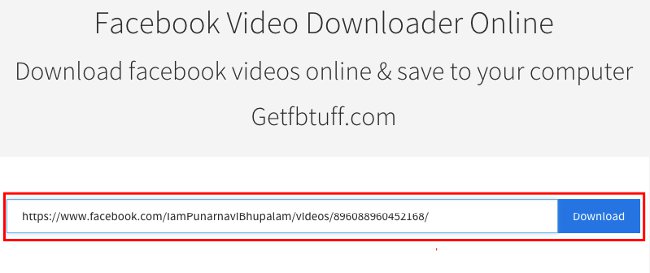 Step 3: Download & save facebook video
---
Your facebook video can be in two qualities i.e. High resolution or Low resolution. High quality or low-quality video can be identified by its size, so you can choose to download any one or both. Right-click and select "Save Link As.." to save it to your computer.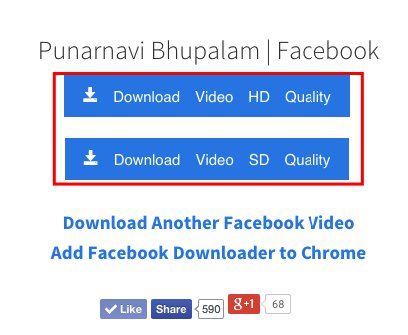 ---
If you are unable to download facebook video, it is likely because the privacy of the video is set as "private". So you can try facebook private video downloader to download a private facebook video.